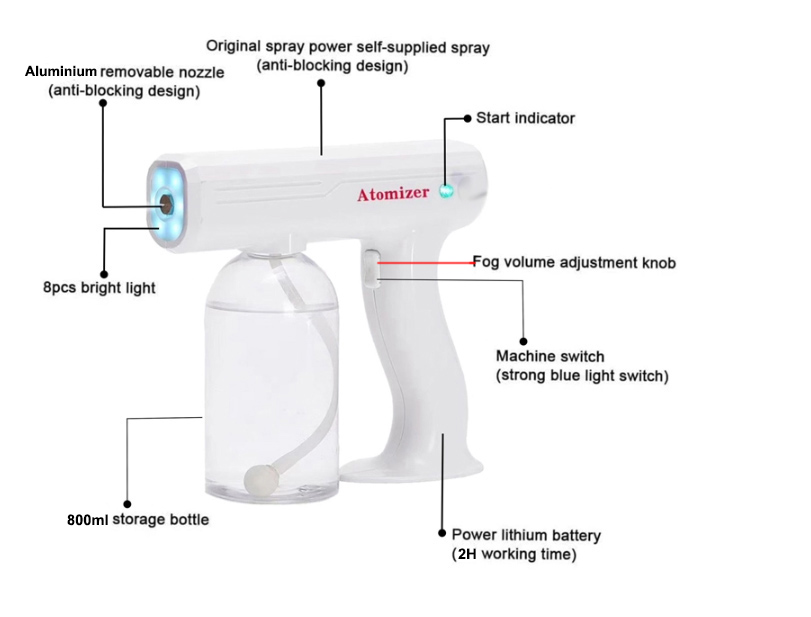 Product Specification:
Model: LTSN10
Rated Power: 10W
Battery Capacity: 4800mAh
Bottle Capacity: 800ml
Production Size: 600px x 550px x 125px
Packing carton: 10units/carton
Input Voltage :DC5V
Recharge :USB
Recharge time:3hours
Usage time:2hours
Weight:550g
Packing size:1200px x 650px x 1175px
1. Operation Manual:
1) Wear gloves before disinfecting;
2) Dilute the disinfect with water in a ratio of 1:20;
3) Fill the capacity with diluted disinfectant;
4) Switch on and wait for spraying(For Atomizer II version, Keep pressing switch 3seconds for on/off )
5) Adjust the spray regulator and spray (For Atomizer II version. Press switch to adjust the spray speed. Press one time to shift I/II grade spraying speed)
6) Stop spraying after switch on 30mins so it will avoid overheat from battery.( 800ml liquid can spraying 40-50mins)
7) Keep recharging 3hours (5V 2A Adaptor) to use 90-120mins.
Indicator Light :red:Recharging Blue:full recharging
2. Application:
1) Diluted disinfectant spraying
2) Hair moisturizing & caring
3) Skin moisturizing and penetrating
3. Liquid Filling:
Alcohol , sanitizer liquid, 84 disinfectant, water.
4. Notice:
1) Please screw the bottle on the sprayer and keep sealing very well after filled the liquid. Other it won't spray out or spray little
2) When feel hot from battery, Pls switch off and waiting for 5-10mins cooling